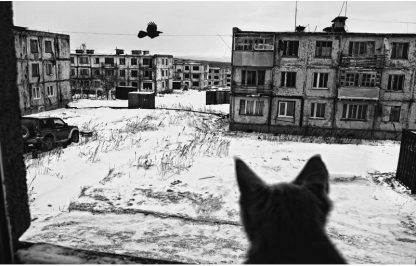 € 285.00
2 in stock
Price includes VAT. For delivery or collection please contact us via
gallery@schiltpublishing.com
Oleg Klimov
The Kuril Islands' ghost town, January 2016
Oleg Klimov
13 x 20 cm
Archival Pigment Print
Edition of 3
€ 285
PhotoCat. prints are a special limited edition available to coincide with the publication of the book. Price includes VAT. Delivery or collection will be arranged after purchase, more information here.
Oleg Klimov was born in Siberia in 1964. He studied at Kazan state University and majored in astrophysics. Since 1991 has worked as a photographer for the Dutch influential daily newspaper NRC-Handelsblad. He has covered all war conflicts in the USSR and Eastern Europe. He has published a book on the consequences of the Soviet Union collapse "Heritage of an Empire". He is a member of the photography agency Panos Pictures, UK. He co-founded liberty.su, the foundation of Russian Documentary Photography.
Only logged in customers who have purchased this product may leave a review.