Saturday 30 March 2019, 11:00 – 20:00
Workshop by Carla Kogelman: How to photograph (your) kids!

Schilt Publishing & Gallery proudly presents a workshop on IJburg with World Press Photo Award winner Carla Kogelman:
How to photograph (your) kids! Followed by a festive finissage of a show I am Waldviertel in the gallery.
During the workshop, Carla will share her unique vision on photographing and creating a personal story through photography. She will provide invaluable advice on creating inspirational photographs of your kids and will show you how to intensify your family bond through photography. Carla Kogelman (NL, 1961) was inspired by the world of children. Kogelman has exhibited worldwide and has won many prizes, including the Silver Camera, World Press Photo Awards (2014 and 2018) and the Alfred Fried Photography Award. Carla's original, subtle but also fabulously free and frivolous way of photographing the unique world of children is characteristic for her work.
Program:
11:00 – 13:00 Presentation by Carla Kogelman or portfolio of students
13:00 – 14:00 Lunch break
14:00 – 18:00 Photographing kids (outside if the weather allows it) and discussing the results
18:00 – 20:00 Festive finissage of Carla's show I am Waldviertel at Schilt Publishing & Gallery, with drinks and snacks
What to bring: A digital camera or good quality smartphone, personal portfolio (5-12 prints), kids (if available !)
Costs: € 200 including VAT, and including lunch, drinks and snacks.
Limited availability! Maximum number of participants (excluding kids): 8
Location: Schilt Publishing & Gallery, Peter Martensstraat 121, 1087 NA Amsterdam (IJburg)
For further information and registration please contact: lilia@schiltpublishing.com / www.schiltpublishing.com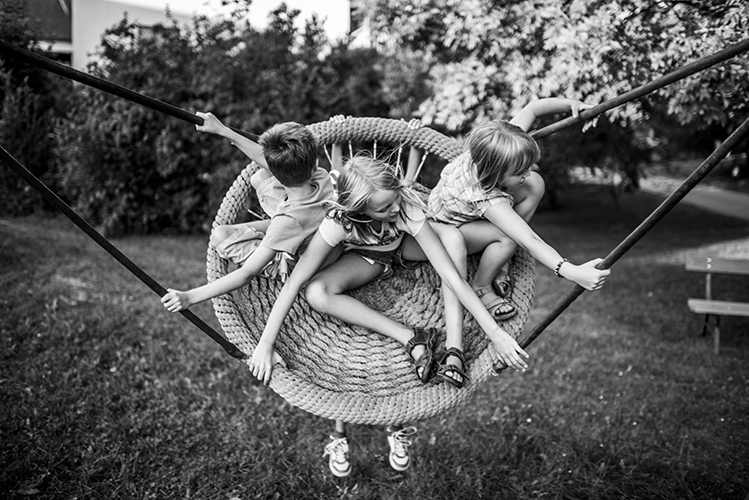 12 January  – 30 March 2019
I am Waldviertel
Carla Kogelman
In 2012, the now multi-award winner photographer Carla Kogelman was commissioned by Szene Bunte Wähne, a youth theatre festival in Austria, to make a documentary about the rural Waldviertel region. She ended up in Merkenbrechts, a small bio village of 170 inhabitants, where she met Hannah and Alena, two sisters who spend much of their time together in a carefree life of swimming, playing outdoors, engrossed in games around the house. Kogelman decides to follow the family and returns regularly. Her original, superb and right on the skin black & white photography of the children and everyone and everything surrounding them in their daily lives resulted in many prestigious national and international awards like the 2018 World Press Photo 1st prize long-term project, the 2017 Alfred Fried Photography Award (winner), the 2014 World Press Photo 1st Prize People – Observed Portraits Stories and the 2014 Cortona On The Move Happiness Award.
In the spring of 2017, Schilt Publishing started discussing a book publication with Carla Kogelman. This has resulted in the book I Am Waldviertel, printed in October 2018 and released about a month later.