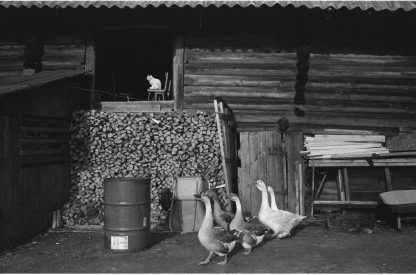 € 285.00
3 in stock
Price includes VAT. For delivery or collection please contact us via
gallery@schiltpublishing.com
Ekaterina Solovieva 2
Vasya, Kolodozero village, Karelia, Russia, 2014
Ekaterina Solovieva
13 x 20 cm
Archival Pigment Print
Edition of 3
€ 285
PhotoCat. prints are a special limited edition available to coincide with the publication of the book. Price includes VAT. Delivery or collection will be arranged after purchase, more information here.
Born in Moscow in 1977, the documentary photographer Ekaterina Solovieva has been living in Hamburg since 2006. Her work is predominantly dedicated to the lives of simple country folk in areas of the former Soviet Union. Solovieva in particularly interested in religious customs. Her photo book ПАЛОМНИКИ (Pilgrimage) was published by Bad Weather Press in January 2014. She had been working on the long-term, documentary project "The Earth's Circle. Kolodozero", since 2009. A photobook with the same title is planned for Spring 2018.
Only logged in customers who have purchased this product may leave a review.