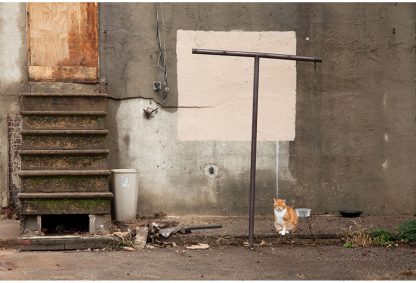 € 285.00
3 in stock
Price includes VAT. For delivery or collection please contact us via
gallery@schiltpublishing.com
Ben Marcin
Orange with White Chest and Mitts, Baltimore, MD, 2016
Ben Marcin
13 x 20 cm
Archival Pigment Print
Edition of 3
€ 285
PhotoCat. prints are a special limited edition available to coincide with the publication of the book. Price includes VAT. Delivery or collection will be arranged after purchase, more information here.
Ben Marcin was born in Augsburg, Germany. Many of his photographic essays explore the idea of home and the passing of time. "Last House Standing" and, "The Camps", have received wide press both nationally and abroad (The Paris Review, iGnant, La Repubblica, Slate, Wired Magazine). More recently, he has been exploring the myriad structures of the urban core in series like Towers, Street, Stairwells and Museums. His photographs have been shown at a number of national galleries and venues including the Baltimore Museum of Art; the Delaware Art Museum; The Griffin Museum of Photography in Winchester, MA; The Center for Fine Art Photography in Ft. Collins, CO; The Photographic Resource Center in Boston; and the Houston Center for Photography. "Last House Standing (And Other Stories)" was featured in a 2014 solo exhibit at the C. Grimaldis Gallery in Baltimore. His work is also in several important collections including the Baltimore Museum of Art.
Only logged in customers who have purchased this product may leave a review.