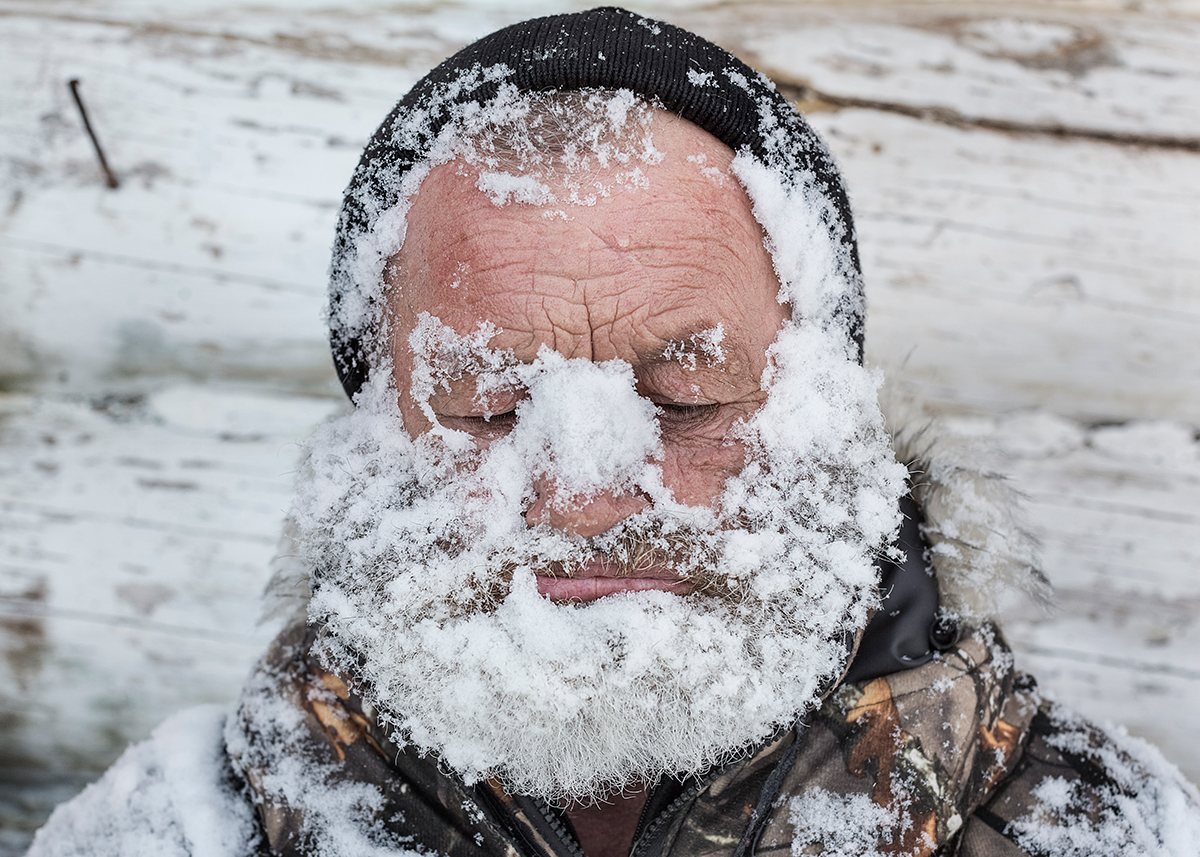 Out-of-the-way
29 September – 5 January 2019
Elena Anosova work concentrates on boundaries and isolation. The Out-of-the-way story, made between 2015 and 2017, is about a settlement in the far North of Russia, founded about 300 years ago by Anosova's ancestors and other people. She has never been there before, and traveled there for the first time to shoot this story. In her work Anosova explores the isolated microcosm. People in that region preserve not only their identity, but also their myths and legends. The place is the epitome of mythology. It was important for Elena Anosova to show this amazing community, that conserves itself and accepts the new only with great caution.
One of the aims of Anosova's work is to ask where we come from, which our roots are. Anosova's ancestors were hereditary hunters in a small settlement near the Nizhnyaya Tunguska River. Almost 300 years ago they came to colonize Siberia, then assimilated with the Evenks – one of the indigenous peoples of the Russian North, with a population of roughly 40,000 – and founded a village in the taiga. Nowadays the population of the village is 130 people, all of them distant relatives. Life of this part of Anosova's family – her father's siblings and numerous cousins and nephews – has not changed for centuries in the remote area surrounded with pristine wilderness.
Elena Anosova lives between Moscow and Irkutsk. Her work explores subjects of isolation and borders and has been critically acclaimed by media and institutions worldwide. She is the winner of multiple awards, including LensCulture Exposure Awards and World Press Photo. Her work has been exhibited during group and solo exhibitions in Russia, Japan, China, Turkey, Austria, Italy, UK and the USA. She is a member of MAPS collective.
Please read an inspiring interview with Elena Anosova by LensCulture here.
Events with Elena Anosova in December: 
We are pleased to invite you to an artist talk by Elena Anosova at Theater Vrijburcht and finissage at Schilt Gallery. On 1st December at Theater Vrijburcht Elena will speak about her projects: Section,Polite Fish, and others.  She will share information and her insider view on International, Russian and the USA institutions (art-residencies, festivals, and portfolio reviews). On 15th December during the finissage at Schilt Gallery Elena will speak about stories and characters from her Out-of-the-way project. She will also present additional materials from the project. Join us for two exciting evenings in December! We're looking forward to seeing you!
Artist talk: Elena Anosova at Theater Vrijburcht. Saturday, 1 December 2018, 20:30.
Address: Jan Olphert Vaillantlaan 143, 1086 XZ Amsterdam.
Finissage: Schilt Publishing & Gallery. Saturday, 15 December 2018, 16:00-19:00.
The presentation starts at 17:30. Address: Peter Martensstraat 121, 1087 NA Amsterdam