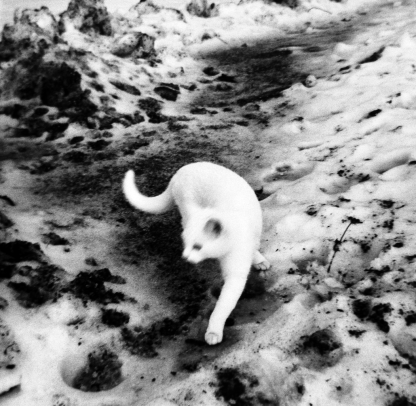 € 3,200.00
1 in stock
Price includes VAT. For delivery or collection please contact us via
gallery@schiltpublishing.com
Machiel Botman
White Cat, 1965
Machiel Botman
50 x 60 cm
Silver gelatin print
Edition: 7/10
€ 3200
PhotoCat. prints are a special limited edition available to coincide with the publication of the book. Price includes VAT. Delivery or collection will be arranged after purchase, more information here.
Machiel Botman (The Netherlands, 1955) photographed from early childhood and his photograph White Cat, 1965 is the one image that fully symbolises his early years.
Botman is known for his intuitive photography with images of his friends, lovers, his mother, his animals, his places. Warm, intimate images but also dark and obscure, both in imagery and possible meaning. A typical analog photographer: "to be honest I never thought much about it, but I have always totally loved to print. Now things have changed and to me darkroom printing is about being more human, and less machine". Botman's work has been published in several books: Heartbeat, Volute 1994; Rainchild, Schaden and Le Point du Jour 2004; One Tree, Nazraeli Press 2011; Three Books, Volute 2014. Botman has curated a number of exhibitions, e.g. Miyako Ishiuchi for Langhans Gallery and Kiyoshi Suzuki for Noorderlicht, both in 2008.
Only logged in customers who have purchased this product may leave a review.