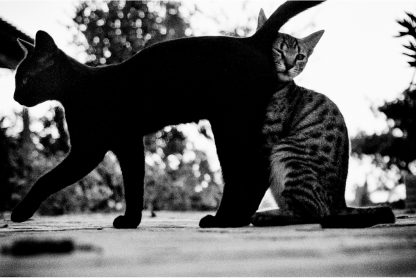 € 285.00
3 in stock
Price includes VAT. For delivery or collection please contact us via
gallery@schiltpublishing.com
Karin Elise Fajersson 1
Cats' Movement, Crete, Greece, 2014
Karin Elise Fajersson
13 x 20 cm
Archival Pigment Print
Edition of 3
€ 285
PhotoCat. prints are a special limited edition available to coincide with the publication of the book. Price includes VAT. Delivery or collection will be arranged after purchase, more information here.
Karin Elise Fajersson is a Norwegian photographer with a Norwegian father and a Swedish mother. She has always been connected to both countries. In her childhood she moved around constantly with her family. She moved to Oslo in 1979, but has since then also lived in Spain, Argentina and Nicaragua. These nomadic traits are a source of inspiration in her images. She now works in Oslo as lecturer in pedagogy. Photography is a personal expression, and increasingly connected to her work as lecturer and researcher. She lives with her husband in the centre of Oslo.
Only logged in customers who have purchased this product may leave a review.